Action-packed clubs for students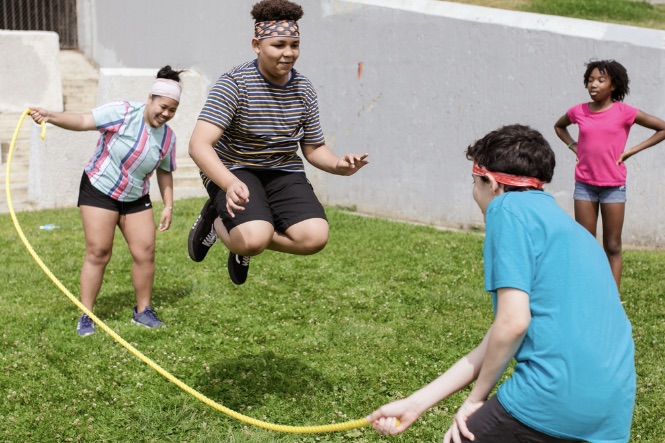 One of the Out of School Time programs we're funding is called Club Jump-Jump-Jump! ACHS math teacher Essie Jones submitted the idea to us and we jumped on it (no pun intended;-).
Per Ms. Jones, the purpose is to increase awareness of and involvement in the sport of jump rope, promote physical fitness and healthy lifestyles, and to provide a fun, inclusive, and athletic environment for students at Alexandria City High School. This club will meet two to three times a week." 
Jumpers will learn Double Dutch, team jumping and single jumping. Club Jump-Jump-Jump will also include games like Chinese jump rope, jacks and hula hoop jump to up the students' cardio. Folks from RunningBrooke, Virginia Tech Jump Rope Team and the Hop! Skip Jump! Jump rope team from Woodbridge will get to meet with the kids from time to time.
The club is open to all ACHS students, and they'll be taking it to nearby schools as well as holding a jump rope competition event!
The George Washington Middle School Walking Club
Shannon Mertsock, a school nurse, along with school social workers, are forming a walking club at George Washington Middle School. They anticipate 20 students will participate and have requested items such as reusable water bottles, hoodies and t-shirts, fitness trackers, feelings journals and drawstring bags – enough to go around. 
In her application, Mertsock wrote: "This activity acknowledges the strengths and needs of the whole child by supporting their physical activity which has been shown to have a positive influence on memory, concentration, and classroom behavior. It's also an effective defense against common mental health issues such as stress, anxiety, and depression.
"Walking is good exercise for both physical and mental health. Providing a platform for students to walk and talk is one way to encourage students to exercise. Walking is an under-rated form of exercise but it is easy to do and it benefits all people."