Taney Ave Playground and Park Renovation is Complete!
On a sunny Saturday, the Taney Avenue Playground and Park officially opened to the kids and families of the neighborhood with a ribbon cutting attended by the friends and volunteers of RunningBrooke, Mayor Allison Silberberg, Councilwoman Del Pepper, Vice Mayor Justin Wilson, Councilman Willie Bailey and Congressman Don Beyer.
The chilly weather didn't stop the kids from jumping into action!
The Story of the Playground Build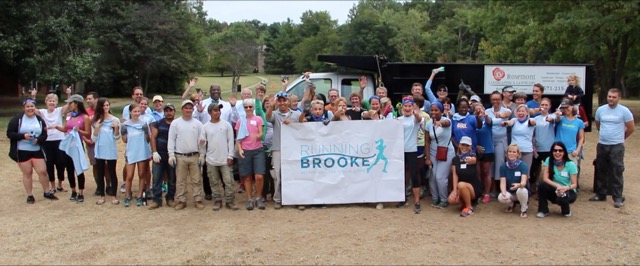 In September sixty RunningBrooke volunteers came together and got their hands dirty working at the site to help prepare the grounds for Phase Two of the playground build. Volunteers dug holes and amended the soil to plant 20 VA-native trees. They created and mulched walking paths among the multiple tree groves. The team watered, pruned, and tended to the existing trees and plants.
The renovation project (designed and guided by the City's Department of Recreation, Parks & Cultural Activities) added play equipment, walking paths, benches, tables, a welcoming ADA-compliant entry plaza, and a much needed water fountain. By renovating this park in Alexandria, we are providing an inspiring area for children to play and a safe space where individuals and families can gather and remain socially connected to their neighbors.
RunningBrooke is so grateful and pumped to partner with each of the 400 donors who gave in April during Spring2ACTion to fund the revitalization of the Taney Avenue park and new preschool-age playground and equipment. Because you stepped forward, 1,500 kids, many of whom live well below the federal poverty level, will get their new neighborhood playground! The kids are so excited! Parents are happy too as this newly renovated and better-lit community space will unify the neighborhood, and bring families together.
RunningBrooke would like to thank the City of Alexandria Parks and Recreation Department, ReBuilding Together Alexandria, BrightView, Rosemont Landscaping and Lawncare for their terrific partnership.

Read the Park and Recreation Commission letter of support for Taney Avenue Park.
Press Release from the City of Alexandria.
Design Plans: (Open as PDF):