2017 Move2Learn Summit
On June 7th, RunningBrooke hosted the second Move2Learn Summit to spark ideas about how schools and organizations can make informal policy changes to support linking movement to learning.
At this year's Summit,
Charlene Burgeson, Executive Director of Active Schools
, and a leader in Michelle Obama's initiative to fight childhood obesity, built on last year's program to look at how small changes within schools and grassroots organizations can make a real difference in child outcomes. Joined by
experts from Alexandria City Public Schools and local government
, and
youth fitness specialist Preston Blackburn
, the Summit explored simple steps that you can take to get kids moving and spark learning.
Watch the video of the entire Summit here.
What our speakers had to say about the Move2Learn Summit:
"Through leadership provided by RunningBrooke, individuals and organizations representing many sectors of society are taking action to ensure that the children of Alexandria, Virginia have many opportunities to participate in physical activity in school and the community. The Move2Learn Summit was an inspiring gathering of champions who want active, healthy, and happy children!" –
Charlene Burgeson, Executive Director, Active Schools
"ACPS is thrilled to be working closely with deeply committed community partners like Running Brooke, and the many other local organizations that were represented both among the panel and in the audience at this year's Move2Learn Summit. It is only in close association with these valued partners that we will be able to effectively change the lives of ALL of Alexandria's young people." – Michael J. Humphreys, Alexandria City Public Schools PE/Health/Family Life Education Instructional Specialist
"Brooke brought together an incredibly knowledgeable group of people who are absolutely passionate about getting physical activity back into children's lives. Our next generation is in dire need of ways to incorporate physical activity into every aspect of their in-school and after-school day, not just to improve their health, but to improve their ability to learn. I applaud Brooke's tireless efforts to make substantial changes for Alexandria's children and improve their outlook for academic success by keeping 'Move2Learn' in the current conversation held by parents, teachers, administrators and community leaders." – Preston Blackburn, ACE Certified Youth Fitness Specialist, Pop, Hop & Rock
Read All of Our Presenters' Biographies Below
SESSION 1
Focus was on ideas for making informal policy changes within administrative and management channels to link movement to learning.
8:00 – 8:15am Keynote Speaker
Charlene Burgeson, Executive Director, Active Schools
8:15 – 8:30am Panel Discussants
Michael J. Humphreys, ACPS PE/Health/Family Life Education Instructional Specialist
Kurt Huffman, M.Ed, ACPS Director of School, Business, and Community Partnerships
8:30 – 8:45am Q&A
8:45 – 9:00am Break
SESSION 2
Focus was on informal changes that can take place at the grassroots level to promote linking movement to learning (i.e., in the classroom, in after school programs, etc.).
9:00 – 9:15am Keynote Speaker
Preston Blackburn, ACE Certified Youth Fitness Specialist, Pop, Hop & Rock
9:15 – 9:30am Panel Discussants
Mac Slover, Alexandria Recreation, Parks & Cultural Activities, Regional Program Director, Youth Activities, Community Outreach & Seniors
April Rodgers, Physical Education Teacher, John Adams Elementary School
9:30-9:45am Q&A
9:45-10am Wrap-up and Moving Forward
Brooke Sydnor Curran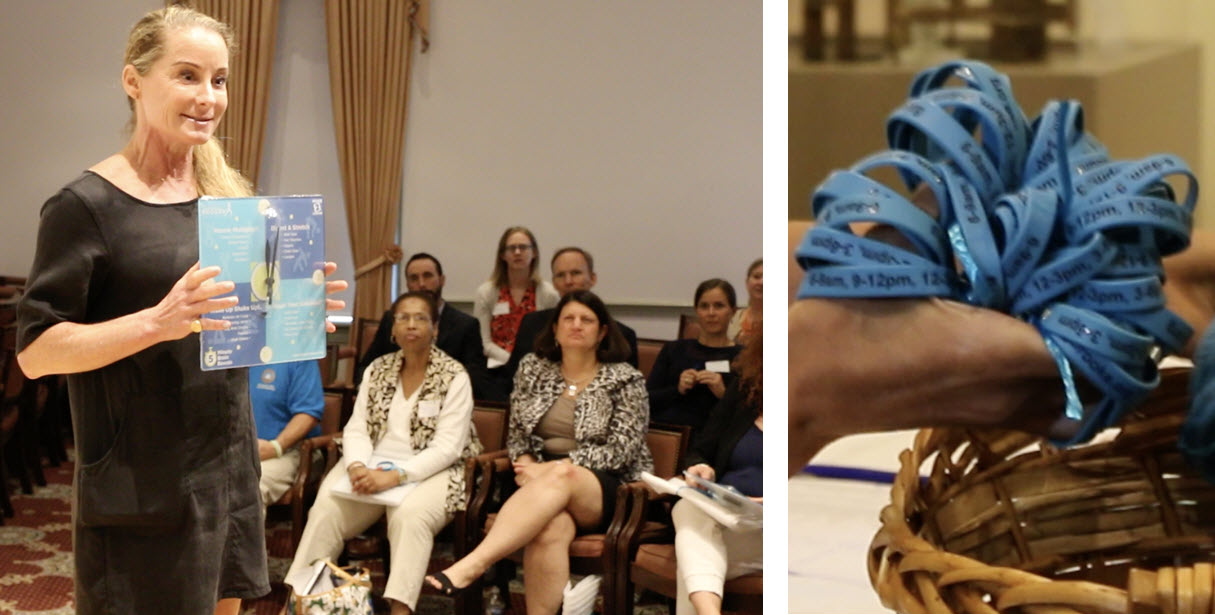 Participant Biographies
Charlene Burgeson, Executive Director, Active Schools
Charlene Burgeson is Executive Director of Active Schools, a collective impact initiative of health, education, and private sector organizations and tens of thousands of individuals committed to making 60 minutes of before, during and after school physical activity the norm in all K-12 schools. Active Schools was launched in February 2013 as a sub-initiative of former First Lady Michelle Obama's Let's Move! initiative. Active Schools is currently driven by 42 organizational partners and 33,000 individuals ("champions") affiliated with more than 23,000 schools serving 12 million students.
Charlene is a national leader for the promotion of children's health through physical activity. For the past 20 years, she has provided national leadership as Health Scientist at the Centers for Disease Control and Prevention (CDC), Executive Director of the National Association for Sport and Physical Education (NASPE), Senior Director for Education and Health at Save the Children. The contributions she has made through these roles are grounded in her early career as a physical education teacher and youth sport coach.
Her personal passions include being a mom to her 17-year-old son and 15-year-old daughter, participating in many sport and recreational activities, traveling, reading, and volunteering.
Michael J. Humphreys, Instructional Specialist, ACPS PE/Health/Family Life Education
After graduating from Brown University in 1996, Michael played one year of professional baseball. Following a three-year stint in the front offices of the same industry, he followed in his father's footsteps and headed into the classroom, picking up a Master's Degree in Elementary Education from Johns Hopkins University. In over 15 years of teaching in the public school setting, he has taught English, social studies, and for the last six years, physical education. Prior to arriving in Alexandria City Public Schools, he taught in both Montgomery County, MD, and Arlington, VA.
He is the proud father of three wonderful kids, Miles (10), Mara (9), and Mae (6), and has been happily married for nearly 13 years.
Kurt Huffman, M.Ed, Director, ACPS School, Business, and Community Partnerships
Kurt started his professional career in 1991 as a Kindergarten teacher in Columbus, Ohio and has worked in public education for over 25 years as a teacher, curriculum coordinator, and principal. Kurt's last professional experience before moving to Alexandria was as the Senior Director of a large non-profit Science Center in Columbus, Ohio (COSI). His department was
responsible for the outreach of STEM programming for over 500,000 students a year, all partnership relationships, grant writing/management and professional development for teachers.
In September 2016, Kurt became the new Director of School, Business, and Community Partnerships at Alexandria City Public Schools (ACPS). He provides direction, vision and goal setting for all partnerships, grants, volunteers, and family engagement. It is a homecoming for Kurt as he was born in Richmond, Virginia and has many relatives in the area. Living in Alexandria, he and his family have enjoyed the opportunity to walk to all different areas of the city, visit all the sites in DC, and as a dedicated runner, he has been taking advantage of all the wonderful running trails that are available in the surrounding area. His wife is a Cardiac Nurse at Virginia Hospital Center and his son just completed a successful first year at George Mason University.
Preston Blackburn, ACE Certified Youth Fitness Specialist, Pop, Hop & Rock
Preston created Pop, Hop & Rock in 2000 when her children were preschoolers. What started as an exercise program has evolved into one that focuses on creating opportunities for kids to hone fundamental strengths and skills that allow them to develop physical literacy and build aerobic, core and other foundational strengths proven to make kids better learners. As a former NCAA athlete Preston brings her knowledge of sports mechanics to every class. In addition, her passion for wellness, nutrition and health drives her love for helping kids develop strong bodies and brains. When Preston isn't working with kids she can frequently be found training the teachers or educating administrators to think outside the box about purposeful movement and the role it plays in development and learning. Preston has also been teaching fitness classes to adults since 1992. She is an American Council on Exercise (ACE) certified Health Coach, Group Fitness Instructor and Youth Fitness Specialist. She is also certified by Les Mills, Reebok International and Healthy Moms. She can frequently be found around Richmond teaching anything from Bootcamp to BodyPump, Spin to Step and more.
Mac Slover, Regional Program Director, Alexandria Recreation, Parks & Cultural Activities, Youth Activities, Community Outreach & Seniors Section
Mac began his professional career in 1978 as the Assistant Department Director for Sylvania Screven County Recreation Department in Sylvania, GA, and has been involved for over 40 years as a professional in the recreation field. He began working for the City of Alexandria Department of Recreation, Parks and Cultural Activities in 1988 where he has served in numerous roles over the past 29 years, and is presently the Regional Program Director overseeing the Out of School Time Program, Community Outreach and Seniors. In 2010, Mac began the Miracle League of Alexandria special needs baseball program for youth and adults and worked to raise over $350,000 to build the Miracle Field which opened in 2012. He currently serves as President of Mid-Atlantic Recreation & Parks Sports Alliance and the Chairman of the Alexandria Mayor's Campaign to End Bullying.
Mac has received numerous awards over the span of his career, including the Alexandria Park and Recreation Commission's Employee of the Year Award and the Alexandria Sportsman's Club's William Hershberger Civic Award, and in March 2017 was inducted into the Northern Virginia Football Hall of Fame.
April Rodgers, Physical Education Teacher, John Adams Elementary School
As a life-long athlete, April followed her training in education and athletic training from James Madison University with a Master's degree in Kinesiology from the University of Illinois, Chicago. Since earning her Master's in 2000, she has spent the past 17 years teaching physical education in Alexandria City Public Schools at John Adams Elementary School.
Through her time with her pre-kindergarten through 5th graders at John Adams, April has had the opportunity to explore a myriad of programs and techniques to help students not only learn the physical education objectives, but also to improve their reading readiness and reading skills, their social studies and science content knowledge, and most especially their character development and growth mindset. Through integrated CETA lessons (Changing Education Through the Arts), Brain Gym, Coaching Club (Teaching Personal and Social Responsibility), personal training through NASM and most recently, her forays into the circus arts, she has come to a deeper understanding of both the human body and its capabilities as well as the human mind and its creativity.
Brooke Sydnor Curran, Founder and President, RunningBrooke
I started running when I was a mom of 3 young children. At first it was a way to find time for myself and to have something just for me. I didn't know at the time that I would eventually run more than 100 marathons, or that it would encourage me to launch a nonprofit that now helps 10,000 underserved kids in Alexandria, VA.
Running gave me focus, self-confidence and a sense of purpose and well-being that I hadn't had before. It encouraged me to look into how I could use running to give back to our community. In doing so, I learned that research shows that running was not only having a positive effect on my physical health, it was also boosting my emotional health and changing my brain.
According to the book Spark: The Revolutionary New Science of Exercise and the Brain by John Ratey, "physical activity sparks biological changes that encourage brain cells to bind to one another. For the brain to learn, these connections must be made." and "Exercise provides an unparalleled stimulus, creating an environment in which the brain is ready, willing and able to learn."
Not only was this true for me, but it also translates into real results when we look at students and exercise. As reported in Spark, when an exercise program was added to a junior high school in Titusville, PA, the standardized test scores "have risen from below the state average to 17 points above it in reading and 18 points above it in math." The teachers also noted the psychosocial effects, with "not a single fist fight among the 550 junior high kids" since the program started.
Those results are powerful. I want all of Alexandria's kids to have the same experience: greater focus in class, a sense of purpose, increased self-confidence, and to use exercise to activate their brains to do better in school.
In 2009, I founded RunningBrooke. We have helped more than 10,000 underserved kids gain access to physical activity through playgrounds, programs and grants. Kids across the city are moving more, reporting improved emotional health, and doing better in school. We have accomplished a lot, and we have a lot more left to do.
We know our work won't be done until EVERY child in Alexandria, no matter where they live or what school they attend, is active and ready to learn.
Special Thanks to Our Sponsors