Playground Projects
Arlandria Futsol Court Beautification Project and Future Playground Site – Started Spring 2017
On June 10th, RunningBrooke and our fantastic partners the City's Department of Recreation, Parks & Cultural Activities, the Liz Luke Team, Rosemont Landscaping, BB&T, White & Case, Old Town Smiles, Mom's Organic Market and the Rotary Club of Alexandria, began the process of transforming an existing derelict tennis court into a Futsol court (an all-ages, fast-paced version of soccer that's played on a hard court). Nearby, we planted a garden area with Virginia-native shade trees and flowerbeds which will incorporate benches and plants/park signage. To further its use and appeal, the court will include 2 basketball hoops. This part of the project is Phase 1 of an exciting two-phase project. Phase 2, which is scheduled for the Fall of 2018 includes building an entirely new playground!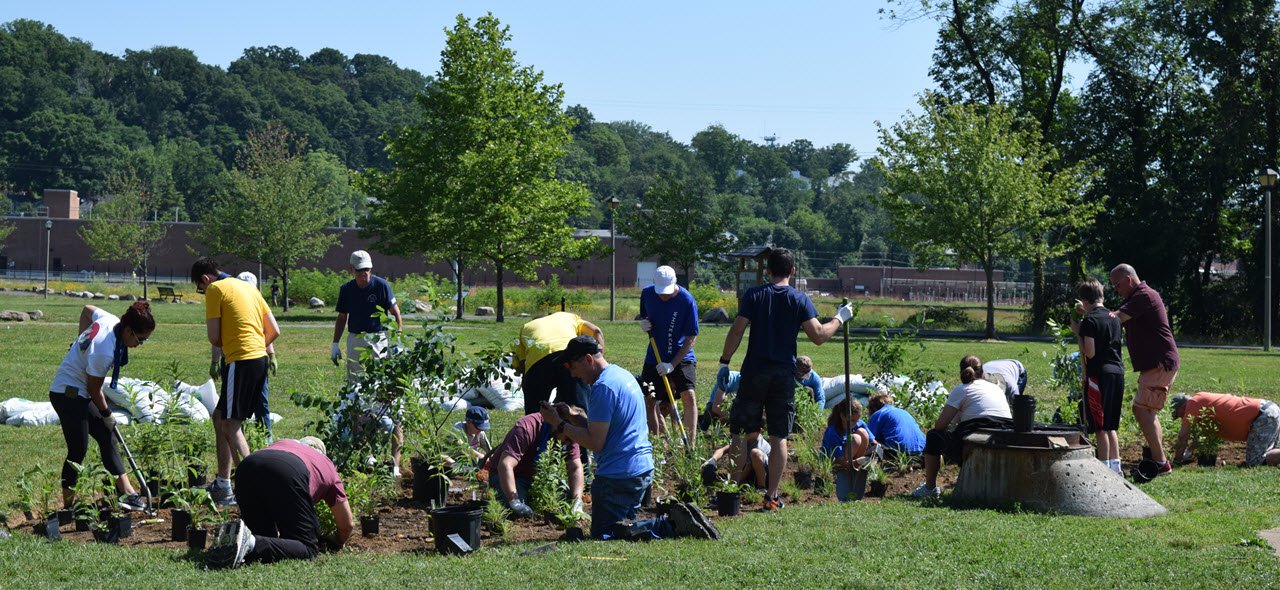 This kid-friendly event included the mobile art lab from the Upcycle Creative Reuse Center. Kids were invited to create beautiful flowers from upcycled bottles and bright paints and ribbons.
See more photos and read about our planting and art day on the Futsol Court page.
Taney Avenue Playground and Park – Completed Fall 2016
The renovation project (designed and guided by the City's Department of Recreation, Parks & Cultural Activities) includes adding play equipment, walking paths, benches, tables, a welcoming ADA -compliant entry plaza, and a much needed water fountain. By renovating this park in Alexandria, we will provide an inspiring area for children to play and a safe space where individuals and families can gather and remain socially connected to their neighbors.
RunningBrooke would like to thank the City of Alexandria Parks and Recreation Department, ReBuilding Together Alexandria, BrightView, Rosemont Landscaping and Lawncare for their terrific partnership.
See the more photos and video of the completed playground. Visit Taney Avenue Playground and Park.
Hume Springs Park – 2015
In September 2015, RunningBrooke partnered with the City of Alexandria in our most ambitious playground renovation to date, completely revitalizing the Hume Springs Park Playground in Arlandria. This playground was fully funded by Spring2ACTion 2014 — thank you to all donors and volunteers who turned this dream into a reality for countless Alexandria children!
And thanks to our park sponsors: Rebuilding Together Alexandria, The Brickman Group, Simpson Development, The Rotary Club of Alexandria, Carshalton Park Rotary of Carshalton Park England and Rosemont Landscaping & Design.

Watch the video below see how RunningBrooke worked with the City of Alexandria Department of Recreation, Parks & Cultural Activities, Rebuilding Together Alexandria and the Hume Spring Playground neighbors to understand the needs of the community and the children in it.
We recently received these wonderful tributes from playground neighbors:
"It seems like as long as there's a sliver of sun in the sky, children are enjoying the playground. Even right after the recent blizzard, there were constantly groups of kids in the park, playing in the snow. Neighbors took it upon themselves to dig out a path through the snow in the park before the City reached it so the neighbors could enjoy it. For some families in the neighborhood, the playground is the only real space their kids have to play outside, so it's always in use."
"Our neighborhood is very diverse, and we don't always stop and talk to each other when we're coming and going throughout the day. But at the park, everyone's kids are playing together and it's just easier to talk and get to know each other."
"Before the park was renovated, there was an old, towering chain link fence all the way around the park, and it really made the park feel separated from the surrounding sidewalks and streets. When that fence came down and was replaced with a new shorter one, it opened the park up and made it feel like part of the neighborhood again."
Visit the Hume Springs Park Playground
2013 Renovations
Maury Elementary School
The kids of Matthew Maury Elementary school (and really the entire neighborhood/community) got a NEW look! With our Caring for Kids Grant Challenge grant, the committed team of parents and educators repaired and repainted the blacktop (mini track, four 4-square boards) and purchased balls, flag-football belts and jump ropes so the kids can run off their energy during recess and after-school, thereby learning better in the classroom.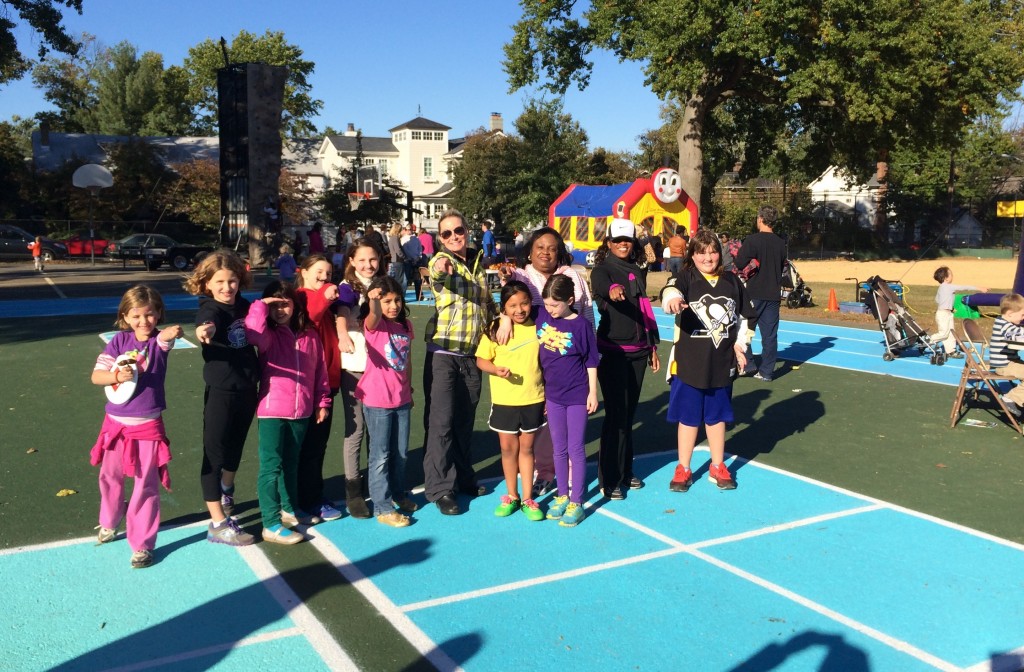 John Adams Elementary School
Funded blacktop resurfacing and equipment.