2016 Year in Review
While we can show the long list of all the goals and accomplishments of the RunningBrooke community in 2016, what could easily stretch from one side of Alexandria to the other are the names, grant partners, supporters, teachers, sponsors, kids, playground builds, activities, meetings (even parties) and hours and hours of volunteer time and effort that went into making this past year the most successful ever! As we work to get the message out that all children no matter their background or circumstances, but especially at-risk kids need to be physically active to maximize their capacity for learning and school success we find that it is a message that's resonating in our community.
For 2017 it all starts now as we prepare to go even further in promoting initiatives to help kids to become healthy and active learners with our 2017 Partners' Grant review, our growing Move2Learn program, more playground initiatives and as always, working with the community and schools of Alexandria. Join us this year as a volunteer or sponsor! Please email me directly to learn how you too can become part of the team as RunningBrooke goes the distance to inspire kids to be active, sparking their learning in school.
Click on the Initiatives below to be reminded of and learn more about the all the tremendous achievements of the past year for which we offer our heartfelt gratitude as your participation made it all possible.
RunningBrooke awarded $70,000 to twelve non-profits in Alexandria benefiting 1,755 at-risk children. This year, funding priority was given to non-profits who use exercise and physical activity to boost learning.
• Alexandria Police Foundation
To send 10 at-risk kids for a week-long summer camp with community police officers.
• Alexandria Seaport Foundation
To fund hour-long yoga classes twice a week for job readiness program participants.
• Alexandria Tutoring Consortium
To mentor young readers and bring their reading up to grade level.
• ALIVE! Child Development Center
To provide preschool classes incorporating movement for low-income families and families of the working poor.
• Center for Alexandria's Children
To fund Learn & Play Groups to strengthen families at-risk for child abuse incorporating movement and free play.
• Child & Family Network Services
To provide health and wellness program for children attending free, bilingual, preschool classes.
• Community Lodgings
To provide an exercise program and after school tutoring for children in the Arlandria and Brent Place Communities.
• Friends of Huntley Meadows
To fund a nature journalism class learning about science through art combined with hiking.
• Girls on the Run, NoVA
To provide scholarships and after-school classes, teaching positive body image and self-esteem while training for a 5K.
• Jane Franklin Dance
To provide after school dance workshops for children living in affordable housing.
• QuinTango
To fund soccer and tango lessons, teamwork and respect at Samuel Tucker Elementary school.
• Yo-Kid
To offer yoga classes to students at Jefferson-Houston Elementary school and to children in Stop Child Abuse Now (SCAN) workshops.
Our most successful Spring2Action fundraiser ever!
"Your generous contribution to Hume Springs Park last year helped create a fantastic venue for our neighborhood to enjoy at National Night Out and many other times throughout the year." – Hume Springs Citizens Association

• Alexandria Running Festival
• Woodrow Wilson Bridge Half Marathon
• Marine Corps Marathon
• Taney Avenue Playground Build

RunningBrooke hosted nationally known heath and physical education expert, Tim McCord to learn about how physical exercise fuels the brain and accelerates learning in children.
RunningBrooke is so grateful and pumped to partner with each of the donors, sponsors and volunteers who supported the revitalization of the Taney Avenue Park with new preschool-age playground and equipment, a walking trail and picnic area. Because you stepped forward 1,500 kids, many of whom live well below the federal poverty level, have a new neighborhood playground!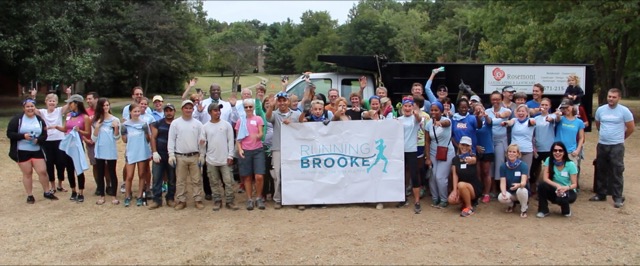 As an official Marine Corps Marathon Charity Partner for the fifth consecutive year, Team RunningBrooke runners raised over $40,000. Special shout out to our teammates as well as our partners at Pacers and Visit Alexandria for their support. This was also Brooke's 100th marathon starting from her first MCM Marathon and first marathon in 2004!
Since its inception, RunningBrooke has raised $1 million dollars, built 2 playgrounds in the Taney Ave and Hume Springs neighborhoods, renovated a handful of others, and worked with more than 35 charity partners to provide services to countless kids in the City of Alexandria. During this time, Brooke has run one marathon every month to raise awareness and raise funds for RunningBrooke. She has run at least one marathon in every state, one on every continent, and on October 30, 2016 she ran her 100th marathon at the Marine Corps Marathon. Read more about the 100 marathons on Brooke's Team page.