Your Impact
Since 2009 you have inspired thousands of kids from neighborhoods across Alexandria to become more active to spark their learning in school through Move2Learn. By partnering with RunningBrooke, you have: funded programs with over 40 unique, local nonprofits, convened thought leaders and forums for science-based information, fostered relationships, and built and renovated playgrounds bringing new opportunities for play and learning to kids of all ages.
Read more stories about Your Impact in the lives of Alexandria children:
Highlights:
Click on the Initiatives below to learn more about the all the tremendous achievements of the past year. We offer our heartfelt gratitude as your participation made it all possible.
In June 2017 we began the process of transforming an existing derelict tennis court into a Futsol court (an all-ages, fast-paced version of soccer that's played on a hard court). Nearby, we planted two pollinator gardens with Virginia-native shade trees and flowers. Up next is the resurfacing of the court, and in Fall of 2018 building an adjacent playground!
Our second Move2Learn Summit hosted Charlene Burgeson, Executive Director of Active Schools, youth fitness specialist Preston Blackburn, and experts from Alexandria City Public Schools and local government, to explore simple steps that you can take to get kids moving and spark learning.
Wow! We are overwhelmed by the support you all showed during Spring2ACTion 2017. You volunteered, donated, spread the word on social media, and attended our #Block2BEon party in Del Ray. It was inspiring to see so many people and businesses in our community come together for Alexandria's kids!
All of your contributions added up to our best Spring2ACTion ever!
RunningBrooke reinvested $92,000 into the Alexandria community and celebrated with our 2017 grant recipients to kick off the work being done with local nonprofit partners this year.
RunningBrooke awarded $70,000 to twelve non-profits in Alexandria benefiting 1,755 at-risk children. In 2016, funding priority was given to non-profits who use exercise and physical activity to boost learning.
Our most successful Spring2Action fundraiser ever!
"Your generous contribution to Hume Springs Park last year helped create a fantastic venue for our neighborhood to enjoy at National Night Out and many other times throughout the year." – Hume Springs Citizens Association

• Alexandria Running Festival
• Woodrow Wilson Bridge Half Marathon
• Marine Corps Marathon
• Taney Avenue Playground Build
RunningBrooke hosted nationally known heath and physical education expert, Tim McCord to learn about how physical exercise fuels the brain and accelerates learning in children.
RunningBrooke is so grateful and pumped to partner with each of the donors, sponsors and volunteers who supported the revitalization of the Taney Avenue Park with new preschool-age playground and equipment, a walking trail and picnic area. Because you stepped forward 1,500 kids, many of whom live well below the federal poverty level, have a new neighborhood playground!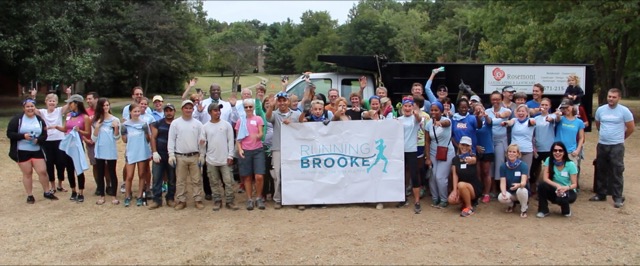 As an official Marine Corps Marathon Charity Partner for the fifth consecutive year, Team RunningBrooke runners raised over $40,000. Special shout out to our teammates as well as our partners at Pacers and Visit Alexandria for their support. This was also Brooke's 100th marathon starting from her first MCM Marathon and first marathon in 2004!
Since its inception, RunningBrooke has raised $1 million dollars, built 2 playgrounds in the Taney Ave and Hume Springs neighborhoods, renovated a handful of others, and worked with more than 35 charity partners to provide services to countless kids in the City of Alexandria. During this time, Brooke has run one marathon every month to raise awareness and raise funds for RunningBrooke. She has run at least one marathon in every state, one on every continent, and on October 30, 2016 she ran her 100th marathon at the Marine Corps Marathon. Read more about the 100 marathons on Brooke's Team page.