WE HAVE 2016 MARINE CORPS MARATHON BIBS!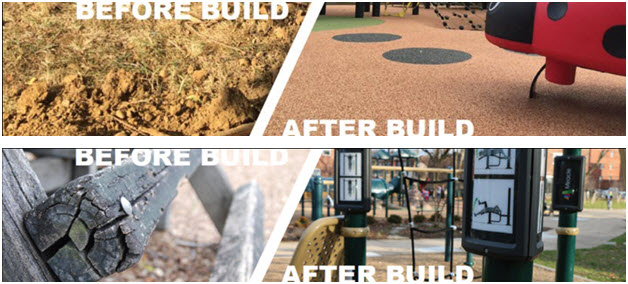 Register to Run
Training starts in June for the 41st Marine Corps Marathon with Team RunningBrooke!
As an official Marine Corps Marathon Charity Partner for the fifth consecutive year, RunningBrooke is offering runners the guaranteed opportunity to be at the starting line on race day, October 30th 2016.
Last year's runners and donors contributed funding for the transformative 2015 RunningBrooke project of a new playground in the Hume Springs neighborhood of Alexandria. The playground went from an uninviting and broken space to a welcoming and engaging playground with age-appropriate equipment. Kids get exercise and neighbors gather to enjoy the outdoors. A total game changer!
30% of Alexandria, VA's 3rd graders don't pass their reading SOL's – a key litmus test for future success, and 44.5% of our 3 to 5-year olds are obese or overweight. In 2016, RunningBrooke, in addition to our ongoing partnerships with Alexandria organizations that get kids moving, is sponsoring the Move2Learn Summit to provide schools, non-profits and community leaders with details of the countless studies that prove physical activity builds the architecture of the brain and fuels learning in kids of all ages. We're also coordinating with the City of Alexandria on the next playground build (Taney Avenue) scheduled for this fall.
Your hard work and dedication toward completing your goal – whether it's your first or one hundred and first marathon will build playgrounds and fund innovative movement programs to level the playing field for at-risk Alexandria kids. ALL kids should have the tools necessary to succeed in school and life.
Bibs are $75.00 and a $1,000.00 fundraising pledge. Starting in June, we'll provide you with total VIP treatment through to the finish line celebration including team gear, an easy to use fundraising page and fundraising tips.
The Details:

• $75 (plus tax) for your GUARANTEED 2016 Marine Corps Marathon bib
• $1000 fundraising pledge – 1st half due by August 15, 2016, 2nd half due by November 10, 2016.
• All donations are 100% tax-deductible as allowed by law.
• All donations to fund playgrounds, movement and exercise programs for at-risk Alexandria children.

Register to Run
What to Expect:

• Total VIP treatment, from start to finish
• Onboarding with team training singlet, visor, hotel information, and insiders' guide about where to stay, shop and dine in historic Alexandria (steps from the Metro and minutes from the race start!)
• Fundraising page set up and support
• DC-local supported weekend Long Runs and weekly Fun Runs through our partner Pacers Running Stores. Train with other MCM runners!
• Bi-monthly team emails packed with training, nutrition, fundraising and injury prevention tips written especially for you by veteran marathoner and IRONMAN finishers coaches Katie and Brooke
• Team carbo-loading party
• Autographed MCM coffee table book, an epic journey in photographs
• Ease into race morning with a reserved VIP tent, food, and separate gear check
• Celebrate your finish VIP-style with post race PARTY: massages, a cookout, and tunes turned by DJ ThunderBunny
Rock your race to improve childhood outcomes!
Register to Run
Presenting Sponsor